With good outdoor equipment the kayak trip will be even more enjoyable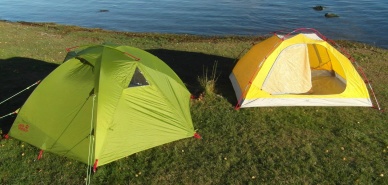 Dome tent, always with sea view!
We rent out Jack Wolfskin Eclipse for two or three person. Self-supporting dome tent that works great even on smooth rocks. Additionally, only the inner tent can be used separately, which is perfect for getting away if any mosquitoes but still able to see the sunset, starry sky and the sunrise from the cuddly sleeping bag in the tent.
Two vestibules making the tent easy to use.
The tent is packed in a waterproof bag.

Sleep well on soft mats
After several years of testing of several models, we have chosen to use only Exped airmat Plus for rent.
We are sure that you will like Exped as much as we! The sleeping mat you pump up easily with the built-in hand pump and can self-regulate how hard or soft it should be. Curled in the packing bag, they take very little space in the kayak's cargo space.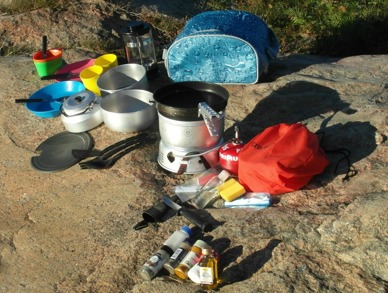 Cook like the pro on the gas stove
Trangia camping stove with gas burners, we dare say is the best kitchen when the weight does not matter. Teflon frying pan, two pots and coffee pot, cutting board, lighters, sponge and eco-labeled dish soap for seawater is included in the basic package. Gas is also included in the price.

In the cooking package (everything you see in the picture) is included: gas stove incl gas, all the cookware and utensils for cooking. plates, bowls, cups, cutlery, knife, tin-opener, coffee press, kayak designed cooler bag,freezer packs, garbage bags.
Spices: salt, sugar, black pepper, chili powder, curry, herbs, cinnamon and a small bottle olive oil
All inclusive camping package
We have made a camping package for you where you only need to bring besides your own clothes is food. We recommend you to have food for 2-3 days from the start. Here in the archipelago is food shops that sells basic foods that you can visit easily with the kayak when you do a tour (3 days and up)
Sleeping bag is not included in the package price. For you who don't bring your own sleeping bag, you can rent from us for 200 SEK (laundry cost)
We also sell for only 300 SEK new summer sleeping bag. Tell us when booking what's best for you.

Package includes. 2-3 person tents, sleeping mats, air pillow, folding chair, 2 x dry bags, kitchen incl. gas plus everything in the cocking pakage, folding shovel for toilet cases, toilet paper, fresh water bottles, drying line, eco-labeled salt water soap and shampoo, mosquito repellent (good to have if needed)
Price in SEK for camping equipment 2020

1 night
............
2 night
.............
3 night
............
4 night
..........
5 night 6 night
..................................

Dome tent 2 p.

Dome tent 3 p.

200:-
250:-
250:-
330:-
350:-
450:-
450:-
570:-
550:- 650:-
680:- 800:-

Sleeping mat

50:-
100:-
150:-
200:-

250:- 300:-


Trangia Gas stove
(incll. gas)

100:-
180:-
250:-

320:-

400:- 470:-

Cooking package
for 1 person
total for 2 person
total for 3 person


150::-
200:-
250:-

250:-
330:-
400:-

330:-
500:-
550:-

400:-
650:-
800:-

470:- 550:-
800:- 950:-
950:- 1100:-
Camp package
for 1 person
total for 2 person
total for 3 person
450:-
600:-
700:-
680:-
850:-
1150:-
900:-
1300:-
1650:-
1150:-
1700:-
2250:-
1400:- 1650:-
2150:- 2600:-
2850:- 3400:-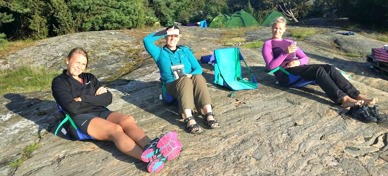 Folding chairs for enjoyable moments
This year this comfortable outdoor chair is included for those who rent kayak two or more days!
We have used these Crazy Creek HEX 2.0 outdoor chairs in our package and the response is always that none will ever go kayaking without having this chair with them for the time on the islands

The chair is also available to buy for 590 SEK