Exclusive all inclusive kayak tours with professional local kayak guides

3 day relaxing among idyllic islands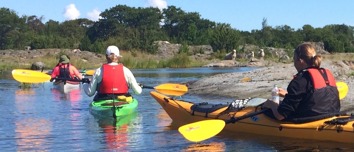 Make it comfortable for you, join us on an all inclusive guided kayak tour.
The St. Anna archipelago is considered by many kayakers to be Sweden's best, most beautiful and peacefull area for outdoor living in summertime.
Now it is your turn to discover Kayak Paradise!

We have many alternative routes, which means that we can choose our route taking account weather and the wishes of the participants.
During our tour we will primarily paddle in the outer archipelago and camp in 2 persons tent.
The area teems with perfect islands so we can promise memorable favorite places for outdoor camping and dinner with guaranteed ocean view.

We will focus on getting a paddling technique that is functional so that everyone can go on a winning way, yet energy efficient.

3 relaxing days, paddling and outdoor life with time for swimming and sunbathing awaits you on our guided kayak tour in fabulous St. Anna.
The guides put a lot of love in cooking for you. The first evening, great archipelago buffet of local fish products. The second day is a Greek-inspired barbecue evening who awaits you on a faraway island with smooth flushed cliffs.
Lovely breakfast, tasty lunches and lots coffee/tea breaks we enjoy during our kayak tour. We take care of everything except to paddle your kayak ...

3-day kayak tour for your private group.

Date: from start of June to end of August
Choose the days you want and we can see if we have available kayaks and guides.
We are full booked mid July to mid August

Time: day 1 10.30 am - day 3 5.00 pm
Price 2019:
4-5 people 4900 SEK/ person
6-7 people 4500 SEK/ person
8-10 peolpe 4000 SEK/ person
With double kayak 200 SEK discount
4 days tour with the best of the best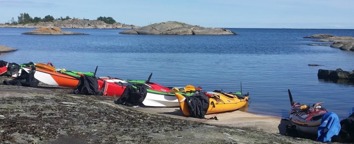 Fall in love with the St Anna and Gryt idyllic summer archipelago under a four days tour.
An archipelago of small shallow passages, a multitude of islands, combined with an open sea with a free horizon just for us kayakers.
A lovely mix of wild nature areas and inhabited islands with tourist services is what awaits you.

Our 4-day kayak trip is aimed primarily to those who want to paddle much, although not perhaps as fast but relatively many hours per day will be in the kayak. We will focus on getting a paddling technique that is functional so that everyone can go on a winning way.
Longing to take it really easy on your kayaking trip, we recommend our 3 day tour.

We put a lot of love in the outdoor cooking, delicious dinners every day. Absolutely no freeze-dried accepted by the guide in charge of the food. Lovely breakfast, tasty healthy lunches and lots coffee/tea breaks we enjoy during our kayak tour. We take care of everything except to paddle your kayak ...

4-day kayak tour for your private group.

Date: from start of June to end of August
Choose the days you want and we can see if we have available kayaks and guides.
We are full booked mid July to mid August

Time: day 1 10.30 am - day 4 5.00 pm
Price 2019:
4-5 people 6400 SEK/ person
6-7 people 5800 SEK/ person
8-10 peolpe 5000 SEK/ person
With double kayak 300 SEK discount

The kayak tour price includes: English speaking kayak guide/intsructor, fully equipped kayak, waterproof bags, two person dome tent, Exped mattress, air pillow, summer sleeping bag and comfortable outdoor chair. All food and drink during the kayak tour, your guide prepares all meals during your trip,

That what you need to bring is your personal items. Summer outdoor clothes and hygiene gadgets and also a "favorite drink" for the evening if you wish you can bring with you in the kayak.
Terms: Swimming ability is required. You should be in good health, have a normal level of fitness and enjoy the outdoors. With single kayak is required to have paddled a sea kayak before in different wind conditions.
For beginners it's always working fine with double kayak on our guided archipelago tour.
Minimum age for participation is 12 years.

When booking a kayak tour you will get an e-invoice of 50% of the amount. The rest you pay on the spot (by card)or alternatively already in advance by bank transfer.
If you cancel within 7 days prior to the time of start you will receive the full amount back. Then you only pay 100 SEK as administration fee. Cancellation 3-6 days before the rent we will refund half of the 50% pre payment. Cancellation the last two days before: no paying back from the 50 % pre payment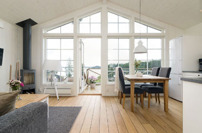 Best option if you want to stay the night before/after the kayak tour in comfortable beds is to overnight in Mon, our nearest neighbour (50m)
They also serve breakfast and have a nice restaurant
Phone: + 46 121 51133
We do not make reservations for indoor accommodation for you.
You turn directly to Mon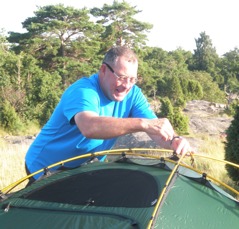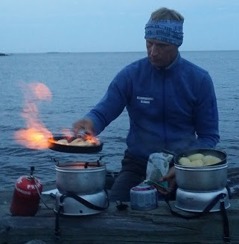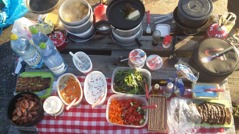 Info and Booking can be made by email or phone or use the form.

tel. +46 73 0932109 (April-Sept)
info@kajakparadise.se