We are all worried for the coronavirus Covid-19.
To go kayaking and live outdoor life in the wilderness we are sure is safe. But we are also sure that to travel to us from outside of Sweden the coming spring/summer is not the most clever thing to do. We still have a small hope that it will be a different situation in the autumn. We hope you all Kayak Paradise lovers are in good health and keep on dreaming and planning for new archipelago adventures in the future.
Do booking request for kayaks and camping gear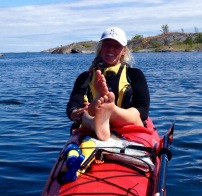 We know that everyone who book with us really wants to come and paddle in our beautiful archipelago. That's why we can have a simple booking cancellation policy.

To cancel your planned kayak rental is of course boring. But we understand that it may happen things that are more important than paddling come in the way of your visit with us.
If you only inform us as soon as possible when your plans change, hopefully someone else will be happy to rent instead.

For you who have pre paid with book early discount.
If you have need to cancel within 7 days prior to the time of rental you will receive the full amount back.
Cancellation 2-6 days before the rent we will refund 80%.
If the weather forecast (24 hour before your planning start) promise too strong wind for safe kayaking it's also full payment back.
Of course, we also follow the situation with covid-19. We take bookings as normal. If it turns out that the authorities advise against our type of business, then normal cancellation rules apply as above. i.e. always ok to cancel and also that we may have to cancel your rent and you will receive your entire amount paid back.