Sea kayaking among thousand of islands in a unique coastal landscape unlike any you've ever seen!
Welcome to Kayak Paradise St. Anna
Sea kayak company for archipelago tours in Sweden
Do self-guided tours or guided all inclusive tours
We are all worried for the coronavirus Covid-19.
We have our kayak rental open as normal. To go kayaking and live outdoor life in the wilderness we are sure is safe. But we are also sure that to travel to us from outside of Sweden is not so easy and maybe not the most clever thing to do this summer. We still have a small small hope that it will be a different situation in the autumn. We are ready for you when you are ready for us.
Read more about visiting Sweden this year.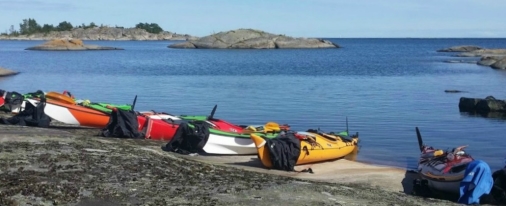 Single and double kayaks for rent for up to 120 persons
Beginners as experienced, kids and adults up to 130 kg can all find a kayak for their self-guided archipelago tour at a favorable price.
We have a lot of different single kayaks and big double kayaks.
When you hire your kayak you will get fully equipped kayak, safety gear and all our knowledge of kayaking and St. Anna archipelago.

Of course you can get fully equipped with all camping gear from us.
| Normal prices/person in SEK | 3 days rent | 4 days rent | 5 days rent | 7 days rent |
| --- | --- | --- | --- | --- |
| Single kayak rent, you bring own camping gear | 800:- | 1000:- | 1200:- | 1600:- |
| Double kayak rent, you bring own camping gear | 600:- | 750:- | 900:- | 1200:- |
| 1 person Single and complete camping package | 1680:- | 2100:- | 2550- | 3450:- |
| 2 person Single and complete camping package | 1425:- | 1850:- | 2250:- | 3100:- |
| 2 person Double and complete camping package | 1225:- | 1500:- | 1950:- | 2700:- |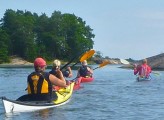 Outdoor life in Sweden is a unique experience.
With the right to paddle and put up your camp almost everywhere you want is just a part of why you shall vist Sweden!
Clean and well protected nature wait for you and we are sure when you leave it will be same as is always have been.