GPS
WGS84: N 58° 21.903', E 16° 49.8596'
Decimal: 58.365, 16.831
Lägg till din egen HTML-kod här.
Experience freedom in a sea kayak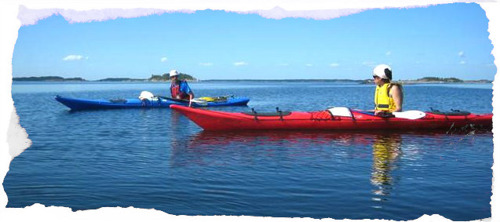 The experience of gliding on a flat calm water among the small islands in the sweet summer heat is something everyone should experience. To travel forward without a sound in shallow sound between the islands, while listening and observing the surrounding nature makes all harmonious. When everything is on and you feel strong, you can paddle on indefinitely. There are so many islands you want to discover, so many places you want to stay on to spend the night so we recommend that you reserve several days in order to have time to enjoy the Baltic Sea kayaking paradise
Now it's your turn to take a tour and discover the joys of sea kayak in the beautiful St. Anna archipelago in Sweden.
Everyone can paddle a sea kayak!
Can anyone learn to kayak? Absolutely! is our short answers.
With us you can rent sea kayaks for all levels, beginner to expert. Let us help you to a great experience by choosing a kayak that match your skills.
But it's not very easy to tip over? Well, at in-and out is easy to tip over and that is why our beginner kayaks have extra large cockpit to get in and out is as easy as possible. Once seated in the kayak there are very few who go around. Of course if you are a beginner you should be observant of the weather. Also having company is important if you are new paddlers.
If you are unsure, we recommend that you participate in any of our courses or tours, or book your own instructor.
Where do you want to relax?