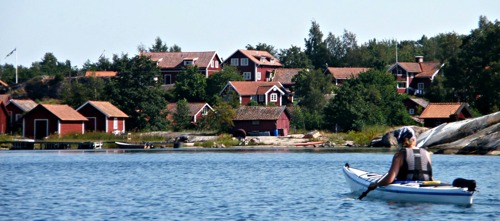 The archipelago of St Anna and Gryt is considered by many kayakers as one of the world's finest archipelagos for kayaking and outdoor life.
The coastline is famous for its many nature reserves and thousands of islands and inlets.
The area is also known for the large amounts of sea eagles and ospreys. The archipelago with all reefs makes it difficult to navigate for boaters do that with our kayaks have it almost all to ourselves. There are very few islands that are inhabited, which makes it easy to find their own islands to relax on.
That what perhaps is most estimated of our visitors are all the idyllic islands with well-preserved cultural mixed with tourist services such as small cottages, smoked fish, cafe and ice cream.
We can proudly say that the St. Anna & Gryt arcipelago is Sweden's most versatile kayaking water. You can easily customize your trip because of weather and skill. It is easy to switch between calm inner archipelago to the wilderness in the outer archipelago.
Welcome to discover the Kayak Paradise!

GPS
WGS84: N 58° 21.9159', E 16° 49.7788'
Decimal: 58.3653, 16.8296